Why You Should Read Deaf Republic in 2021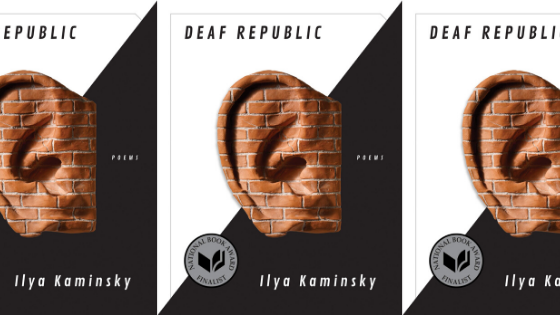 2020 has received many negative reviews. People said that the Mayan calendar, which predicted the world's end in 2012, was eight years off. Now having left 2020 behind, I can confidently say that the doomsday prophets were wrong. Through the wildfires, celebrity deaths, explosions, political dysfunctions, protests, economic disarray, and pandemic the planet still stands. Last year's difficulties were heavy and widespread, and so we distracted ourselves with all sorts of entertainment. One I found solace in was Deaf Republic: Poems by Ilya Kaminsky. This collection of poems is organized into a coherent story that imitates 2020, though it was written in 2019.
Before I continue I need to warn that this book contains scenes of sex, violence, and overall brutality. It is intended for mature audiences. Please keep that in mind before you read it. I will try my best to keep this spoiler-free.
Deaf Republic: Poems is about the town of Vasenka that is being occupied by a foreign army. With martial law in place, all public assemblies are prohibited. However, a puppet show where deaf boy was shot dead by a sergeant of the army, sparks a town-wide protest where no one speaks. The story follows two protagonists: Alfonso Barabinski, the cousin-in-law to the late deaf boy trying to raise his daughter, and Momma Galya Armolinskaya, the puppet theatre owner organizing an insurgency. Both characters are protagonists in acts one and two respectively. Events mirror those that have happened in 2020. For example, an unjust murder by an agent of the state sparks resistance in the community, like how the murder of several black people by police sparked resistance across the nation. Another example is how the book is given a greater tone of dread by bombardments destroying businesses and livelihoods, much like the pandemic. The final similarity was the most relatable: little victories are won and singular peaceful moments are valued more. As Ilya Kaminsky writes: "What is a child? A quiet between two bombardments." This poem, yes this is an entire poem, is repeated throughout the book replacing "child" with "man" and "woman". This gives a tone of togetherness to the quiet between two bombardments that each member of the family provides. Family is the peace between breaking news.
Why would anyone want to be reminded of 2020? The book is much more than a reminder; it is a call to action. Bystanders cheer and part take in public acts of rebellion and don't support but harass their own townspeople when the consequences are paid. Ilya Kaminsky even references how much Americans act like bystanders in foreign and domestic affairs, even citing police brutality. "Ours is a country in which a boy shot by police lies on the pavement for hours." Fresh into 2021 it is important for us to no longer be bystanders; now we must stand in the way of injustice. That is why you should read Ilya Kaminsky's Deaf Republic: Poems in 2021.