The Dark Discrimination Behind the SAT
The SAT is an ineffective metric to judge a student's merit. It upholds divisions in society: both racial and economic.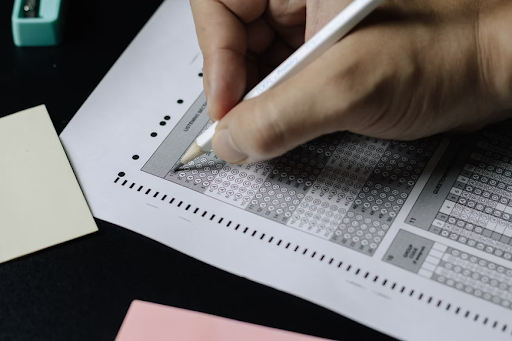 Historically, the SAT has been a way to justify white supremacy. Its creator, Carl Brigham, was a notable eugenicist who used score results to prove the idea of a white master race. There are significant scoring gaps between races. When it comes to the college readiness benchmark, 59% of white test-takers reach the college boards goals for the math section, whereas less than a third of Hispanic students do. Additionally, a 2003 study showed that "SAT test questions that resulted in better scores for Black students compared to white students were discarded by test authors in favor of those that white students answered correctly". The racist origins of the SAT have made the test impossible to be used today without giving in to extreme discrimination. 
The SAT discriminates against students from low-income backgrounds. Due to the unfair nature of the SAT questions, many students seek supplemental help in the form of test prep courses or tutoring, which can cost families thousands of dollars. These opportunities are not feasible for many low-income households. This leads to a lack of access to higher education, continuing the cycle of economic inequality. Scores also play a role in deciding scholarship opportunities allowing many of the opportunities to go to those who need it less. 
The inequalities of the test have an impact beyond scores. When faced with a disadvantageous testing situation, many students become discouraged and lose motivation in their academic lives. It can even lead to a student choosing to not apply to college; Black and Latino students are less likely to apply to college and are less likely to pursue a stem major. The SAT influences the makeup of professional fields and hinders qualified people from pursuing higher education and contributing to the advances of scientific careers. Having diversity in any profession is important because different perspectives and backgrounds lead to new approaches to problem solving and success. Black and Latino people remain underrepresented in the STEM workforce and, in consequence, scientific professions lack diversified perspectives, potential talent, and are held back from intellectual and economic growth. 
The obstacles that underprivileged students face have a serious effect on their college education and the future of this country.  Fortunately, the SAT is not a student's only option. A student may choose to take a different standardized test, but those tests suffer from similar problems. Another option is to forgo standardized testing as a whole. Due to the pandemic, many schools have become test-optional. In the future, there must be a fairer approach to comparing applicants, and universities should de-emphasize the importance of standardized testing in the college process.
Leave a Comment
About the Contributor
Isabella B., Contributing Writer
Isabella is a junior at BASIS Independent Brooklyn. She loves exploring psychology and science and is passionate art and photography. Outside of school,...