Christian Dior's Fashion Legacy Comes to the Brooklyn Museum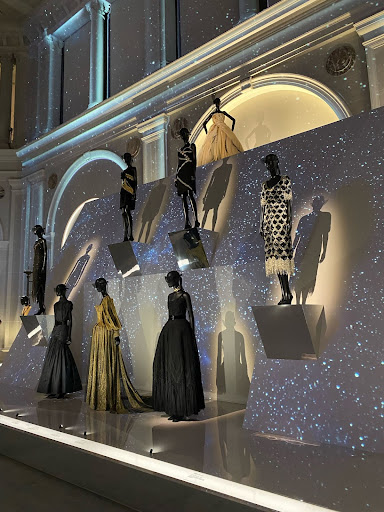 The Brooklyn Museum debut of the exhibition Christian Dior: Designer of Dreams showcases the groundbreaking history and legacy of the House of Dior, featuring a wide array of different photography, archival videos, and fashion pieces from Dior's collection. 
In 1947, Christian Dior debuted his first and most popular fashion collection, The "New Look," exemplifying many of the French couturier's fabled silhouettes. Because of his growth in popularity, Dior obtained a number of prominent clients from Hollywood, the United States, and Europe. Dior's popularity and debut collection is credited with having revived the fashion industry in France. Thus, Paris, which had lost its position as the capital of the fashion world after WWII, regained its world-renowned fashion prominence. 
However, Dior's designs were not well received by some. With cloth rationing during World War II, many thought the amount of materials used in his work was wasteful. Feminists were particularly outraged: the corseted designs and tight waisted skirts made them feel that women were losing their autonomy. Many other groups also protested against the designs, including the "League of Broke Husbands." Nearly 30,000 men took part in this group, protesting the cost of fabric required for such designs. 
In spite of the opposition, the "New Look" was still incredibly influential, and is continuing to make a lasting impact on the work of other designers and fashion well into the 21st century. The fashion industry took into consideration the opposition to Dior's designs, and adjusted accordingly. For example, Raf Simons revisited the "New Look" for Dior's debut haute couture collection in 2012. Simons' work for Dior retained the luxurious fabrics and silhouette, yet encouraged self-respect for the woman's body and liberation of expression. The design process for this collection is documented in Dior and I, presenting Simons' use of technology and modernist re-interpretations.
The exhibit expands further on the historical retelling of the House of Dior through mini information stands next to the art pieces and incredible cinematography, a gorgeous experience to witness. It showcases one of the strongest forces in fashion throughout the past 75 years by detailing what it is that truly makes Dior special, how fashion has remained the same, and — as fashion is destined to do — how it has constantly evolved. Overall, it is a truly marvelous experience, and one you won't want to miss. 
Leave a Comment