Class of 2022: Our College Application Experience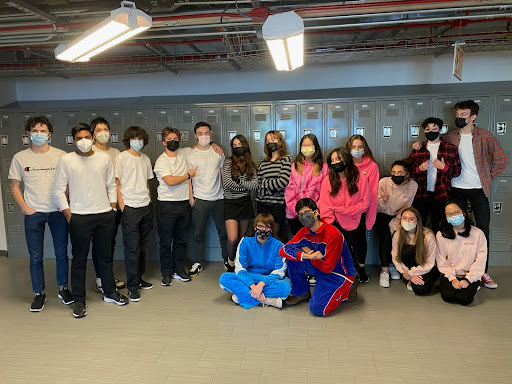 In the beginning of ninth grade, we are advised to start thinking about the college admissions process. It may seem like years away, but there are a lot of components in a successful application. We are told to take as many AP classes as possible and strive for high marks. We are nudged to pack our afternoons with extracurriculars, start our own clubs, and seek out leadership positions. We are sent to prep courses in hopes of boosting our SAT or ACT score. We are encouraged to develop connections with our teachers and pick two of them to vouch for us through letters of recommendation. In our senior year, we spend hours perfecting the personal statement and writing dozens of supplements for specific schools. It is a stressful process that takes hard-work and dedication.
For the Class of 2022 at BASIS Independent Brooklyn, some have been accepted to colleges while others are waiting until March to hear their acceptances. Senior year has been a very stressful time and as senioritis begins to kick in, the Class of 2022 would like to reflect and share their insight on this unpredictable process to the school community.
Below are a list of questions and answers by some of the seniors at BASIS Independent Brooklyn (BIB) that reflect their college application experience:
The following interviews were condensed and edited for clarity.
1. What challenges did you face with the college admissions process?
Luc M: "It was very stressful to apply to many schools. It was difficult to manage my time when I was spread thin and tired. It was also very stressful to submit all of the correct information such as letters of recommendation and test scores because you couldn't make any mistakes. Overall, the process was extremely difficult and there was very little sleep during this process."
2. How did BASIS Independent Brooklyn prepare you for college?
Edward K: "The BASIS education has given me the ability to memorize a lot of information in a short period of time. I am probably going to need that a bit in college for the mundane things."
Luca S: "There have been a lot of obstacles at BIB but it has taught me to work independently and try my best. Also, I can not downplay the fact that the faculty and teachers at BASIS Independent Brooklyn have been supportive throughout my high school years."
3. What advice do you have for BIB students who will soon apply to college?
Alan G: "I advise you to start early on your extracurriculars and do something meaningful. Be committed to it, do it for three to four years. I advise you to start writing your essays over the summer. Make sure you have someone who can give you good advice, otherwise you will get stuck early on."
Andres M: "A lot of people tell you to do everything to impress a college but what I think is important is to prioritize passion. For me, my passion is sailing, and I have committed to doing it for a long time. It makes me stand out because I care about it and it inspired my business venture, Mackerel Studios."
Elias D: "Don't do what I did and procrastinate and only do Regular Decision. I had to do all of my college apps over winter break and was not able to see any of my friends for the entirety of it."
Sid R: "The college process is tough and unpredictable, but you've got this. Stay true to yourself, explore your interests, and don't give up. College is just one small part of life."
Sofia C: "My advice is to start early. You do not want to start an application on the day it is due. Prioritize writing your essays. Create a good schedule. Also, ask someone who knows you well to edit your essays. Besides writing, talk to your peers. It helps with the pressure."
Sophia B: "Try not to procrastinate everything to the last minute. Try to receive advice from others; however, submit what you are happy with and what you think is the best representation of you. Don't stress too much."
6. What classes at BIB shaped your intended major for college?
Clara V: "My Biology and Neuroscience classes are where I found this love towards science and research. In college I want to learn more about humans and what makes us so complex and unique. I also want to participate in a research lab, and the science classes at BIB helped me prep for that to some extent."
Eric C: "Taking AP US History, AP European History, AP Literature, AP Language, AP Seminar, and AP Research introduced me to content that interested me. I enjoyed talking to the teachers of those classes and it inspired me to want to major in history and minor in legal studies."
7. How did you decide on which teachers to ask for a letter of recommendation?
Amber A: "The most important part is not only picking teachers whose classes you've excelled at, but also those who know you as a person. It's important to pick teachers that have something to say about you other than that you're a good student and you get good grades. Try to form close relationships with your teachers and have them get to know you, so that they can advocate for you in the best way."
Andres M: "I felt that I knew my teachers really well, and they knew me really well. I advise picking a teacher that you really bonded with."
Sofia C: "The reason I picked Ms. Das was because I knew her very well. She was my teacher for AP Calculus BC and for Capstone Neuroscience this school year. I first met her in 7th grade and thought she was great. We also share a birthday! I picked a teacher who I am close with, and I advise others to do the same. I also picked Dr. Lisa to write my letter of recommendation. She was an incredible mentor figure and I loved her class."
8. What clubs at BIB have you been active in? Do you intend to continue these extracurriculars in college?
Luca S: "I had the opportunity over the pandemic to create the Art Club. It was not easy to run because it was online but I was able to convince enough people to form our own community and competitions. In college, I hope to continue pursuing art as an extracurricular."
Sophia V: "I have been active in the school newspaper, The Grizzly, as a contributing writer. It was so much fun getting to write about topics that I enjoy and find interesting. I would definitely participate in writing for the school paper in college." 
9. Do you recommend applying early decision and early action?
Courtney H: "I think that it is important to apply early decision and early action if you feel ready to do so during the end of October in your senior year. Early Decision means you must go to the school if admitted. Early Action means you hear back your results earlier for a school. For me, I am glad that I applied for both early decision and early action. It motivated me to start early to perfect my writing supplements. Also it doesn't hurt to hear back results from colleges earlier!"
Daniela S: "Yes. First, I would recommend applying early because it develops familiarity with the college application process early on. Early decision is useful because it lets colleges know that you are truly committed to attending the college if accepted. Early action allows you to get a better idea about how strong your application is in comparison to the rest of applicants. That way, you can make useful alterations before submitting RD. It also gives you options early if admitted."
Thank you to the students interviewed from the Class of 2022 at BASIS Independent Brooklyn who took the time to document and share their experience.
Leave a Comment
About the Contributor
Courtney H., Editor
Courtney is a senior at BASIS Independent Brooklyn. She enjoys volunteering at the Prospect Park Zoo and the New-York Historical Society. Courtney looks...