Alumni Launches New Bioengineering Podcast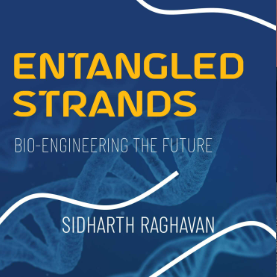 Former Grizzly editor-in-chief Sidharth R. '22 recently launched a bioengineering podcast series called Entangled Strands: Bio-engineering the Future. The series explores cutting-edge research in the field through interviews with leading researchers.
Currently, Sid is enrolled as a freshman at Johns Hopkins University majoring in biomedical engineering. He decided to continue his pursuit of journalism with the series focused on biotechnology innovation.
The first episode of Entangled Strands focuses on an interview with Dr. Hans Willem-Snoeck, a Professor of Medicine at Columbia University studying blood stem cells and the immune system. Dr. Snoeck was also Sid's Senior Project Advisor and a BASIS Independent Brooklyn parent.
Episode 1 is entitled "From a Cell to a Lung: An Arduous Journey: A cell enigma, building artificial lungs, and the future of stem cell therapies."
Episode 2 is slated for release on December 2, 2022.