Understanding the Experiences of Teen Ukrainian Refugees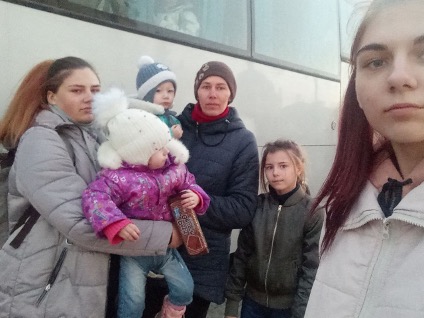 When Russia launched a military invasion of Ukraine on February 24, 2022, millions of Ukrainian citizens were put in severe danger and forced to evacuate their cities and towns. As of early July, at least 12 million people in Ukraine had been displaced from their homes. This includes over five million Ukrainians fleeing to neighboring countries, including Poland where a translator from The Hummingbird Effort Foundation helped arrange interviews with four teenagers – the same age as American high school students – who escaped from Ukraine and are now living in different regions around Poland.
Most of the teenagers interviewed left Ukraine a month or two after the initial invasion, only with their immediate family. Seventeen-year-old Yelyzaveta said that before she fled Kharkiv with her mother, grandmother, and little sister, she was forced to hide underground in traumatizing conditions. "My family lived in the basement for two months and slept on pieces of wood to the sound of bombs," said Yelyzaveta. "Many died right in the cellars. Russian people raped, abused, and killed peaceful people, children, and animals with their own hands."
When asked how they escaped, many of the teenagers stated that they came to Poland via long, crowded train rides. Seventeen-year-old Tetiana, originally from the Poltavsky region, responded, "It was very scary especially to go by train, our family went by night train and when it was completely dark we heard planes flying and then heard explosions." Additionally, all four teenagers said they were able to contact friends and family still in Ukraine, but 13-year-old Marianna, currently living in Gdynia in Northern Poland, responded, "I did not sleep well at night. I was very worried about my loved ones in Ukraine."
Although volunteers helped the families find housing and clothes, these teens still had to find a way to continue their education despite being displaced – a privilege most teenagers the same age as these refugees often take for granted. Most of the teens have transitioned to online school, although as 16-year-old Zhenya described, everyday life consists of "eternal moving and job search" and he has only "completed one course in distance learning."
As death and destruction occur around them with continuous fighting and Russian attacks, the mental health of these teens continues to suffer. "Every day is the same, I really want to go home," Yelyzaveta said. "I was supposed to have the last school call, and in a month the graduation, which I dreamed about for 11 years. But I won't have anything. Russia took away our dreams, joy, smiles, and life." 
These teens miss their homes and communities in Ukraine before their lives were completely uprooted by the war. In response to the question "Do you plan to stay in Poland or go to another country?" Zhenya said, "At the first opportunity we will go to Kharkov," his home in Ukraine. The same longing to return to Ukraine was expressed by the three other teens, as Yelzaveta states, she and her family "plan to be in Poland, but immediately after the end of the war we will return to Ukraine."
All four teenagers shared their experiences of fleeing Ukraine in the hopes of raising awareness and encouraging American action. Zhenya urges Americans to "put pressure on the government to speed up the supply of weapons as much as possible. Because our army really needs it." "Ukraine needs weapons," said Yelyzaveta, "we urgently need to accelerate this." 
Additionally, there are "hundreds of Ukrainians sitting in basements and bunkers [who] need the simplest things, food, and water," said Tetiana. Individuals can donate to organizations such as The Hummingbird Effort Foundation which provides humanitarian relief to victims of the Russia-Ukraine war and made these interviews possible. The non-profit organization provides food, clothing, and housing to refugees fleeing Ukraine, including the teens interviewed and their families. They also send medical supplies and other resources across the Polish-Ukrainian border. The Ukrainian Red Cross and GlobalGiving Ukraine Crisis Relief Fund are also working to provide resources, supplies, and other forms of relief to those still in Ukraine and Ukrainian refugees.
Now after over nine months of war with Russian attacks on power and electrical grids as a brutal winter approaches, President Volodymyr Zelensky has recently expressed his hope for the future of Ukraine, "Once [Russia] wanted to destroy us with hunger, now – with darkness and cold. We cannot be broken. Our fire will not go out. We will conquer death again." 
The four teenagers interviewed stressed that it is imperative for other nations to help Ukrainian forces and refugees like themselves, who represent a few of the millions who have had to experience the Russia-Ukraine war first-hand. "Before the war, I had everything. I went to school, attended clubs, and played with children in the street. When I went to bed, I knew that tomorrow would be calm. Now I have anxiety. I want world peace to come," Marianna said.