The Museum of Art and Design, commonly referred to as "MAD", in New York City recently featured some of the international pop star Taylor Swift's costumes. The exhibit ran for a little over four months, temporarily housing some of Swift's most iconic items. But, setting aside the beauty of the garments themselves, the exhibition was underwhelming.
In fashion, each minute detail of a garment is vital in understanding the piece as a whole. It's practically impossible to understand the makeup and structure of a garment without being given a 360 view, which is why it's typical for a fashion exhibition to present at least some of the apparel in a walk-around view, allowing the visitor to gain more understanding of the essential pieces in a museum's collection.
The curator of this exhibit stored everything in glass against the wall. There are a few possible reasons for this choice: the museum might have feared damaging the pieces or maybe they needed more space or time to put the exhibit together. Regardless, allowing viewers to walk around the garments would have highly improved the experience.
Considering the volume of the pieces the museum received, the curator could have greatly improved the display if it had been more spaced out. The floor designated for the Taylor Swift exhibit seemed to be the smallest in the building. Since the exhibition was so hastily assembled, they likely had to find the soonest available space for the display, resulting in a design flaw.
The curator placed many pieces uncomfortably near one another, making it hard to focus on one costume at a time. The closeness of each garment made it such a quick walk-through that it felt like there should have been more, especially for some of the more lavish clothes.
Swift's gorgeous gown from her "I Bet You Think About Me" music video was, frankly, too close to other pieces. The dress felt more like a solo piece that should have had a separate glass case. With the large circumference of the skirt and the flower detail along the length of one side, it is clear that this dress was meant to stand alone. Similarly, the proximity of some of the other "Red" era garments reinforces the idea that the curator did not give enough room for the exhibit and, especially this dress.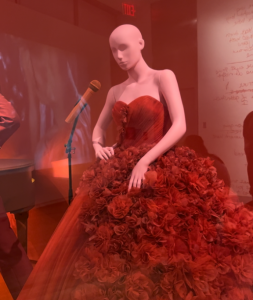 The exhibit was a wonderful experience for Swifties, with a quick walkthrough of Swift's costumes and features including drafts of song lyrics in Swift's handwriting plastered on some walls and music videos projected on others. However, if people were hoping to truly observe and gain insight into Swift's costumes, this exhibit was ultimately disappointing.