Impeachment: What's Going On
Addie J., Contributing Writer
February 2, 2020
On Wednesday, January 15, the House sent the Articles of Impeachment to the Senate for trial, making Trump became the third president in history to be impeached. The first allegation is that the President withheld four hundred million dollars in military aid and withheld a White House meeting to press Ukraine into investigating a potential election rival, Joe Biden and his son Hunter. The second allegation is that the President obstructed justice and abused his authority as president. There is a lot of controversy between the political parties over the legitimacy of Trump's impeachment.
Generally, Democrats feel like Trump's actions are an impeachable offense: they are a misconduct of presidential power and damage national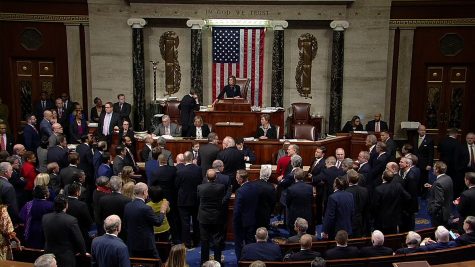 security, since the money withheld from Ukraine was going to be used for current conflicts with Russia. Nancy Pelosi, the Speaker of the House, announced on September 24th that Trump's actions represented a "betrayal of his oath of office, betrayal of our national security and betrayal of the integrity of our elections." According to a USA TODAY/Suffolk University Poll, 51% of surveyed Americans want President Trump to be convicted and removed from office.
On the opposing side, many Republicans believe that Trump's actions are not valid enough for impeachment because there was no quid pro quo. They believe that the bribery that Trump allegedly committed requires an exchange or trade. They support their view by noting that the President of Ukraine has stated that he felt no pressure to investigate Biden in order to obtain the aid and the meeting. "I'm sorry, but I don't want to be involved to democratic, open elections of U.S.A. No, you heard that we had good phone call. It was normal, we spoke about many things. I think, and you read it, that nobody pushed me." Trump has utilized the media to express his opinions on his impeachment, calling it an "unconstitutional witch hunt".
This situation began on September 26 when a whistleblower complaint concerning national security issues involving President Trump was released. Following the complaint, Trump released a five-page transcript of a call made on July 25th to the Ukrainian President, Volodymyr Zelensky. It revealed Trump asking Zelensky to "do us a favor" and "get to the bottom of it." At the time, Trump had directed his staff to defer four hundred million dollars of military aid to Ukraine. Both presidents made statements about the call saying it was a "perfect" interaction that didn't involve any acts of bribery.
With members including  Alan Dershowitz, Kenneth Starr, Pat Cipollone, and Jay Sekulow, Trump has gathered a legal team for his trial. He also has prosecutors from former President Bill Clinton's impeachment. Trump's lawyers have prepared a six-page document defending Trump's impeachment on constitutional and procedural grounds, calling it  "…a brazen and unlawful attempt to overturn the results of the 2016 election and interfere with the 2020 election, now just months away". Trump and his defense team have said that the impeachment charges fail to confirm "any crime or violation of law" and were "the result of a lawless process that violated basic due process and fundamental fairness".
The senate trial has begun. In order for Trump to be removed from office, two-thirds of the Senate has to vote to convict him. In the House, the votes on Trump's impeachment were almost partisan—except for a few democrats. Along party lines, voting in the Senate is expected to be similar. Considering that Republicans control the majority in the Senate, it is very unlikely that the Senate will convict the President.