Broadened Boarders
BASIS Independent Brooklyn's 2020 World Fest Celebration
Bursting with color and life, BASIS Independent Brooklyn opened its doors the last weekend in February for its Fifth Annual World Fest Celebration. With Ms. Das, Ms. Goldfarb, and the National Honor Society running the event, our cafeteria was transformed into an international showcase, our auditorium into a think tank of multiculturalism, our gym into a soccer stadium, and our classrooms into dance studios and theaters.
The National Honor Society hosted a variety of activities. Students enthusiastically represented their heritage and interests in country booths
and showcased their unique cultural and ethnic backgrounds through delightful dishes ranging from Israeli falafel to Polish pierogi all the way to delicious dumplings. Rows of booths lined the cafeteria walls as a playlist of international music pulsed through the room. In the center of it all were conversation tables for practicing French, Spanish, or Mandarin in a casual setting or for playing Chinese table games with teachers Ms. Collins and Ms. Lai.
Global art forms were both taught and exhibited.  A classroom became a movie theater for short films of mythology from around the world.
The Bollywood-inspired dance Masala Bhangra engaged all ages of dancers alike. Howard Latting, a 7th degree black belt, conducted a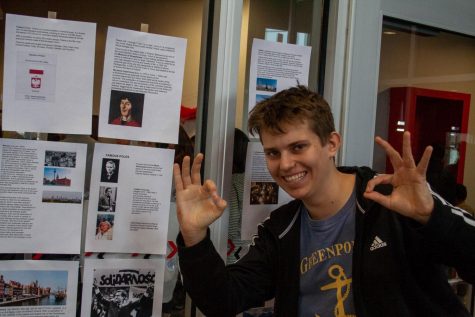 demonstration of Korean martial art form Tae Kwon Do. In various mediums from photography to drawing, our students displayed their own internationally inspired art.
In the gym, our soccer team ran games for guests of the world's most beloved sport. Across the hall, senior Denise Hewitt led a group discussion on multiculturalism in an educational environment for high school students. Students shared and reflected on the assorted ways in which their cultures and experiences affect them both inside and outside the classroom. The conversation explored how the environment and the school curriculum influence our perceptions of ourselves in the context of our heritage.
Engaged by stomach and mind, the excitement of World Fest prompts reflection on how we engage as global citizens shaped by national identities. Events of like serve the crucial purpose of educating and engaging people with diverse cultures. When discussing just this in Denise's forum, students felt that the opportunity to garner a more personal understanding of unique cultures gave nuance an expansive curriculum. Gatherings where the community unite to share in a love of learning and teaching mold global citizens from students.
About the Contributor
Elizabeth C., Contributing Writer
Elizabeth is a junior at BASIS Independent Brooklyn and an arts contributor for The Grizzly. She enjoys participating in various on-campus clubs including...