Finding Beauty In The Mundane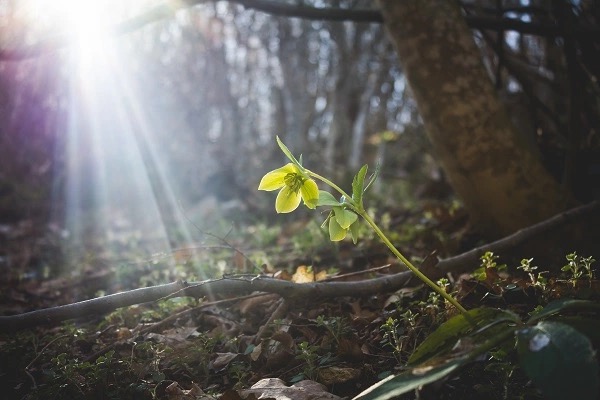 Finding Beauty In The Mundane
As I stepped out of the car, all I could see for miles were bright green trees and blossoming flowers. The cobblestone roads meandered through untamed wilderness. The air was thick with honeysuckle and azaleas, and the warmth from the sun lifted my soul with its comforting presence. Picking up my white sun hat and notebook, leaving my sandals behind, I was devoured by the fields of dandelions. The lush grass danced underneath my bare feet. Strolling through the meadow towards a wooden bench, memories flooded back from my early childhood. As sunlight poured itself into the glistening water, turning the once protective darkness to gold, the lake revealed its secret beauty. After setting my hat and book down, I dipped my toes into the refreshing water and was greeted with a cool breeze. My feet smoothly squished into the warm mud as I sighed a deep breath of relief. As I ambled back towards the bench, I began to write poetry and draw while listening to the water flow and birds sing sweet melodies. In that oneiric moment, I was transported into a fairytale and filled with happiness and a sense of hope. All of my troubles melted away.
When I got home from school, Mom, Dad, and all of my siblings were home already which doesn't usually happen. I saw the board games and box of pizza on the table, as well as blankets and old DVDs on the couch. "Tonight is quality family time" Mom exclaimed, "work can wait until tomorrow." I set my backpack and coat aside then went into the bathroom to freshen up. As I looked at my reflection in the mirror, I couldn't help but smile. The whole family was together, so tonight I wasn't going to succumb to all the stress I was feeling. We laughed until our stomachs ached and cried tears of joy. Delicious bites of hot pizza crust and new memories replaced the chaos churning throughout our minds. Dad had missed teasing us, and Mom had been waiting to beat us all at Monopoly again. That night I fell asleep on the couch in my sister's arms underneath the blankets and popcorn. Family provides comfort and a sense of safety unlike any other. You learn to truly appreciate your time with them and realize how much you need that love. They are your motivation to keep chasing your dreams and persevere. They are your strength to never give up and choose love over hate. They are your escape from the world and a source of happiness.
During Autumn, red and yellow leaves were falling along with a drizzle that quickly turned into rain. I ran in my navy blue rain boots and black coat through the puddles. When I finally got home, I changed into comfy clothes and made a cup of hot lemon and honey tea. I grabbed my favorite book and curled up next to the window underneath a warm blanket. Gently pressing my ear up against the window, I could hear the soft pitter-patter of rain droplets, so I slightly opened my window. I could feel and smell the earthly petrichor of cold droplets landing softly on my cheeks and eyelashes. I continued to read and enjoy my tea then received a phone call from one of my friends. She cheerfully asked me to join her on a walk to hopefully see a rainbow, since the rain was coming to a stop. I put on my raincoat and boots once again then grabbed an umbrella just in case. As we watched the sky slowly clear and turn to a light gray, a rainbow started to form. While I was looking up at the sky delighted by its beauty, she knocked my umbrella up against a branch causing all the water caught on the leaves in that tree to fall onto me. I couldn't help but laugh and run from the water. Many people view rainy days as tiresome and saddening, but it's all about what you make them into; when appreciating these small moments of joy by yourself or with others, you learn to love and find happiness in all aspects of life. A new perspective and attitude have the power to change all of your emotions and outlook on the world.
It is easy to lose yourself amongst all of the disarray and sadness accompanying the pandemic, as well as through our new societal shift in regards to equality, but it is essential that we hold on to and fight for those opportunities for peace and gaiety. Each story provides a calming occasion, in which the characters are offered a moment of relief, invoking a desire inside the readers to experience that too. Whether it's spending time with family and friends or alone that relaxes you, it is worth the chance of tranquility. Our emotions are constantly being tightly locked away in a soda bottle and shaken around by life. Without any breaks, they will one day explode, so every smile or laugh is crucial.
About the Contributor
Riana S., Contributing Writer
Riana is in the 10th grade at BASIS Independent Brooklyn. Ever since she was little, she has had a passion for English and journalism. In her free time...