The 2020 Thanksgiving Day Parade: A Disaster on Wheels
The 2020 Thanksgiving Day Parade: A Disaster on Wheels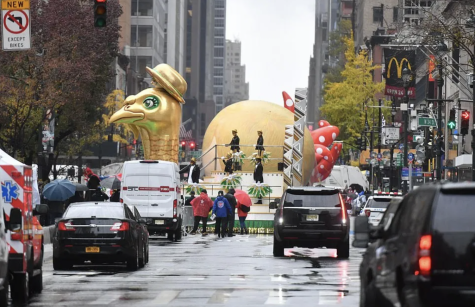 Now, I know what you may be thinking: "Luca, why do you hate Thanksgiving? What's up with you and holidays?" For the record, I think Thanksgiving is a fine holiday, minus the mass genocide and land theft, but otherwise the family portion is just grand. However, I do happen to take issue with the "parade" performed by Macy's this year. I understand the intent was to "raise our spirits during these uncertain and unprecedented times," but seeing underpaid men and women being forced to dance around parade floats in utter silence was one of the most depressing sights I've seen all year. I truly hope these poor people were given a raise to compensate for the modern-day equivalent of doing a 3rd grade recital in front of everyone's parents except your own. To make matters worse, it was easier than ever to see the random assortment of B-list celebrities lip syncing due to the absence of confetti and screeching tourists. There's nothing like watching Ally Brooke struggle to make up new head movements to hide her obvious mimicry while riding a giant Blue's Clues float. In fact, all Al Roker, Savannah Guthrie, and Hoda Kotb talked about was how great it was that the parade was occurring even as COVID-19 continued to spread. This was very helpful, as I always need a constant reminder of the issue that's been plaguing this country for almost a year now. As a last-ditch effort to save this train wreck of a parade, Macy's decided to throw in Jimmy Fallon and the Hamilton production crew, both of whom were at their peak of popularity in late 2016 and have aged like milk. At least they had Dolly Parton on, but since the parade started at 9 a.m. for some unknown reason, I had to wait a full two hours only to watch her sing a Christmas song at a Thanksgiving parade. I can't blame her – for some reason, there aren't many Thanksgiving songs. Overall, while its intentions were good, this year's Thanksgiving Day Parade was frankly a disappointment and more barren than a Macy's at any time of the year.
About the Contributor
Luca S., Art Director






Luca is a senior at BASIS Independent Brooklyn with a passion for drawing; this year, he returns to the team as the Art Director. Luca enjoys...