The Truth Behind Rhythmic Gymnastics
The Dark Truth Behind Rhythmic Gymnastics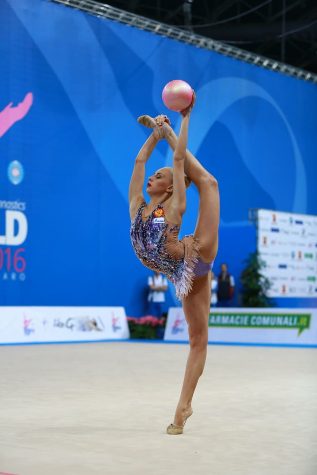 Rhythmic Gymnastics is a complex sport involving grace, flexibility, and – most importantly – strength. Competitive rhythmic gymnastics began in the 1940s in the Soviet Union, and the first world championships for the sport was held in 1963 in Budapest. On average, gymnasts train about 28 hours per week (four hours a day, every day), with no breaks, even after an eight-hour school day. The reason for such intense training is obviously to compete.
Competitions may be held internationally and locally, but wherever they are, gymnasts are always extremely nervous. Wearing skin-tight leotards, putting on pounds and pounds of makeup, and covering their hair in gel and hairspray just to make the perfect bun, gymnasts aren't in the most comfortable conditions, to say the least.
These competitions and training aren't always as pretty as the performances the audience sees. The dark truth lies behind the curtains – gymnasts get physically and verbally abused every day, especially by coaches. This does a lot of mental damage, especially to adolescents. Growing up thinking they aren't flexible enough, skinny enough, etc., leads to eating disorders and insecurities.
I used to train in a very strict gym where the coaches were training the girls the same way that they were taught in the Soviet Union. I remember doing nonstop routines over and over again, only for my coaches to tell me they would be perfect if I lost a few more pounds. I remember taking ballet and getting slapped all over my body if something was not straightened or tightened enough.
Looking in the mirror, I was very unhappy with how I looked while training. I felt I wasn't flexible enough, my legs were too big, and my stomach was too big. Unknowingly, I wanted to look like all of the Olympic gymnasts – tall, skinny, and miserable.
I say miserable because about two years ago, there was a sex scandal surrounding USA Gymnastics team doctor Larry Nassar. There even was a Netflix documentary titled "Athlete A," explaining what happened during this case. Megan Havlicek, a 15-year-old gymnast suffering from a fractured spine, went to Dr Larry Nassar for treatment. However, during what was supposed to be a routine appointment, Nassar assaulted her "again and again and again." Halicek testified in court in January. "He abused me," she recalled. "All the while telling me stories about his Olympic journey. I closed my eyes tight, I held my breath, and I wanted to puke. To this day, those feelings are still there," she said.
Halicek is one of more than 150 women who came forward with their testimony at the sentencing hearing for Nassar, a former doctor for USA Gymnastics and sports medicine physician at Michigan State University. He has pleaded guilty to charges of criminal sexual conduct and federal child pornography charges. A judge sentenced Nassar to up to 175 years in prison for his crimes in January, saying "I just signed your death warrant." The former doctor has already been sentenced to 60 years on federal child pornography charges.
This is just one of the cases that came to light in recent years. However, how many other cases are still hidden behind the curtains? Gymnasts are so scared to tell their stories because they feel like all of this abuse is happening only "for them to be better gymnasts." That's no justification. It is cruel, and it should not happen again.